After a mild and warm February it turned to winter just in time for the first big spring break week. I had trips all this week but the weather has been anything but warm, sunny and calm causing me to cancel the last three days.
Oh well, maybe tomorrow. The forecast is for the breeze to start laying down but the low temp for tomorrow night is below 40 degrees! Prior to this cold front the Gulf temp was in the upper 60s, the Spanish had all ready shown up in force in Panama City Pass and a couple Cobia had been seen off the piers. This cooler weather will probably put the big push of pelagics back a week or so.
The bottom fishing remains strong with lots of Vermillions to fill the box and plenty of "just" short Amberjacks to pull on. While we are landing the occasional legal one most are an inch or two short. The Gag groupers turned on on this full moon much to everyone's surprise and excitement. I had a group catch 5 ( nice ones!) on a 4 hr trip last week. We caught several others on other trips here lately but I don't think I had seen five total this year 'til last week. Some fine Red Snapper around as well. Glad to see there are quality fish in close this early. The sharks continue to be a problem for those folks trying to land a big fish and an exciting diversion for those that want to tussle with a toothy critter. Plenty of them too.
Here's a few pics.
Braggin rights Grouper.
Quickly answered by another on the other side of the boat.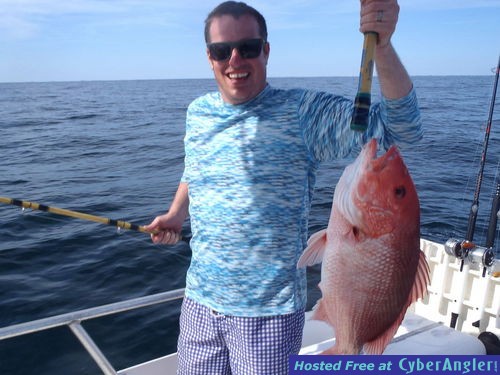 Some Bragging rights Snappers too.
Plenty of Vermillions to take home for dinner.
A limit of Vermillions and an Amberjack that covered up the yardstick. That Gal in green got the keeper, only one she landed after the other three folks had caught a dozen that were "just short". Said that was all she needed.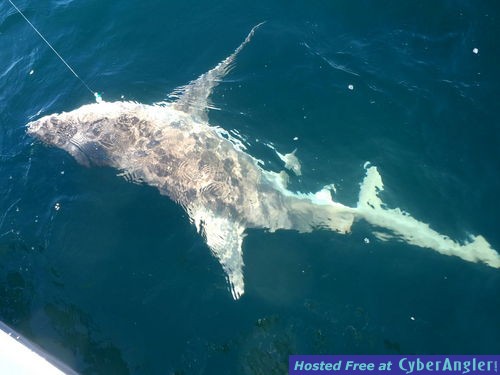 Not just another big Bull at the boat. The fellow that caught this one had asked for a big one. Got him after an hour and a half on 40# test… 2 miles from where we hooked him! Braggin' Rights!
The Spanish should show as soon as it warms back up, followed by the Cobia, cigar minnows and Kings.