After having perfect weather for the busiest part of Spring Break we have turned kinda soggy this week. Not near as bad as what the the weather gurus have predicted though. I missed Sat, Sun. & Mon. due to rainy/windy conditions but got to run under dry but overcast skies the next 3 days even though the official forecast was 80% chance of rain.
Today is back to breezy and rain so I am on the hill again, tomorrow is anybody's guess 'cause the weatherman does not seem to have a clue.
I have mainly been bottom fishing with families still. The cobia run is happening but not a banner year so far. Most of the days I have got to look for the brown backed critters have been foggy or overcast and I have bottom fished most of the perfect days for sight fishing… We have still got to tangle with a few crab crunchers and they are always exciting.
Better weather forecast for next week and more chances at cobia hunting, er.. fishing.

This gentleman picked a beautiful day to cobia fish , and was rewarded with this 46 pounder.
As well as getting to see the biggest school of jacks i have seen in years. He got to tangle with 3 and said, "Okay, I'm Good".
We have still been catching lots of Vermillion snapper to fill the box while bottom fishing. The numbers seem to have thinned out some but the grade (size) has increased dramatically. Fewer limit catches but more total weight.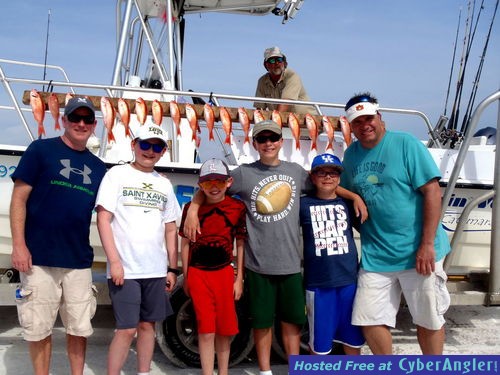 Family Fishin' with dads and the boys.
Four Big Kids with some fine Snapper.
This family not only had some good snappers but a pair of scamps and red grouper too.
More dads taking the boys for memories and dinners.
Coleen Duffley is one of SoWal's talented artists. She took these professional food stylists fishing so she could photograph their fresh catch and dinners for magazine work! I think she wanted some fresh ceviche' too.
Another dad having a big time with the kids.
There have been a few Kings caught but they are not hot yet, should be any day. The pompano are just now showing up in numbers. Singer/writer (working on being a fisherman) Bobbie Steeno caught a limit yesterday morning. He said that brings him to 21 for the spring.
I had a cobia about 30 pounds chase a bait rig up to the boat yesterday AM while I was catching bait for my charter. I ran in, got my anglers and we went back to where he had been but… all gone…. We just started seeing jacks (crevalle) this week and my folks caught about a dozen (big) spanish one morning while we looked for cobia under foggy skies.
I saw my first big schools of rain minnows this week and the cigar minnows are here. The big snappers are moving in to the closer in spots and all the finny critters appear to showing up for another great year!
For more great action Check out Captain Larry's Fishing Column on SoWal.com.