Well, now that it's after Labor Day and most of the summer visitors have left the weather has gotten absolutely gorgeous. I have been able to run trips every day for the past week and only had to cancel one afternoon 'cause it blew up. Today is just great, calm, sunny and the water is clear but the beach is empty, there were only 3 of us charter boats out from Grayton this morning. It always seems that the prettiest time of the summer is after the "season".
I came back fishing off Grayton to a great Mackerel bite, both Kings and big Spanish. While they have slowed over the past week there are still some here. We landed one nice one this morning, one that was "short" and lost about 4 more after bottom fishing. The lesser Jacks have moved back in and are pretty much a "sure thing" if you want to ride out to 100′ of water to catch 'em. There are some groupers around and quite a few scamps as well, as always though the are the Groupers hardest fish to get up in the boat…just because you get a bite doesn't mean it's a caught fish! Triggers , Vermillions and Pinks too.. plenty of options to fish for right now.
Here are a few pics of what we kept the past week…as always the Red Snappers are everywhere and we are steady throwing those back…
This was a 2 hour afternoon trip with 2 folks! 7 Groupers on the board with NONE lost to the bottom! We threw back a few more Scamps that were short as well.
These guys had great time but left most of their groupers on the bottom. I think the excitement of the big Shark they landed made up for it.
What's better than going fishing in the afternoon with the Family? Why going for free…these folks won a trip I had donated for a father's Day prize on SoWal.com.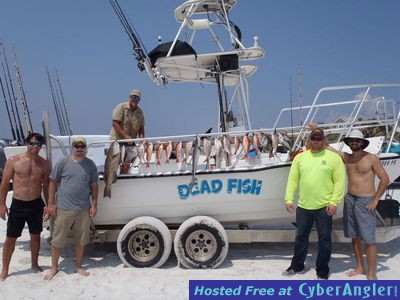 These Guys are used to Fishing Florida Rivers…They had a blast in the "big" pond!
These 2 had big time catching Kings and Triggers.
Catch those Kings up 1st…then go bottom fishing. Nice to be able to "do it all" on a 4 hr!
Here's great 4 hr with Kings, big Spanish and a FINE Grouper.
These 2 guys had a limit of Kings ( along with big Spanish)so we had to chase something else to finish the 4 hr. trip… They did good with a pair of Groupers!
Still no word from the Feds as to whether there will be a Fall Red Snapper season or not. The way things are going they will probably wait till September 30th to let us know if and for how long it will open in October….. Roy Crabtree and the other anti- fishing folks with the Feds are trying to make up what ever reasons they can to justify not reopening. It would be nice if the EDF and the PEW trust didn't have so much power over what should be the "science" of fisheries management rather than the "politics".
Plenty to catch ( and still keep !) this time of year. Calm days, uncrowded water… get out there and catch something!
For more great action Check out Captain Larry's Fishing Column on SoWal.com.